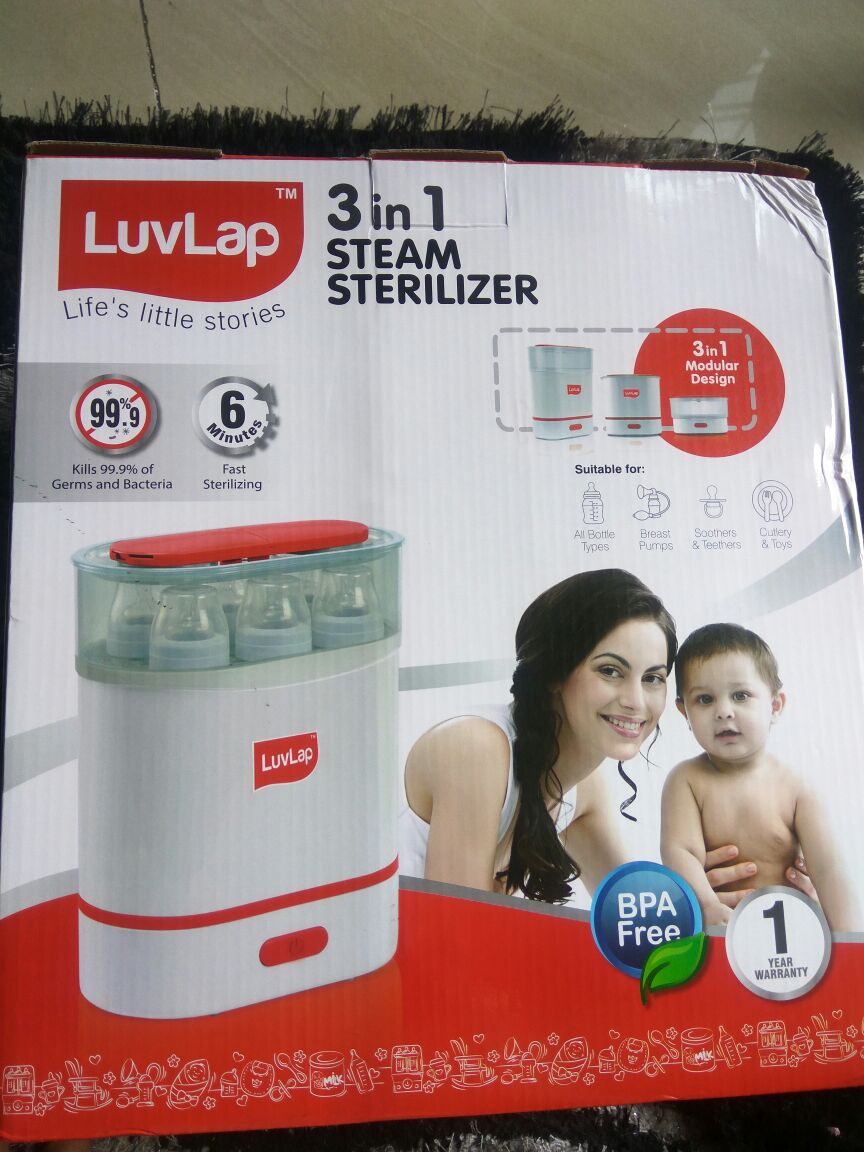 Every Mother Tries to Make Sure That What Ever Goes into their Baby's Mouth, it is 99.9% Germ Free. Whether you are formula feeding or expressing breast milk, it is vital to keep equipment and your baby's bottles clean and safe. Sterilising helps to protect your baby against germs and infection. A steriliser is a unit that allows you to do that job quickly and easily.
If you decide to start feeding solids before your baby is six months old, you will also need to sterilize your baby's spoons and bowls. However, it is best to wait until your baby is six months old before introducing first foods.
Electric steam sterilizers require no chemicals or rinsing, and simply plug in at the wall. They kill bacteria using the heat from steam. Sterilizing takes six minutes to 15 minutes. Depending on the model you have, items can remain sterile for up to 24 hours with the lid closed. These sterilizers are often the most convenient way of sterilizing, particularly if you have a lot of items to sterilize, and you don't have a microwave.
This is my first experience of using a sterilizer of LUVLAP 3 in 1 Electric Steam Sterilizer for Baby Feeding Bottles & Accessories. When i received the product ,i am little bit confused how to operate it but i find a guide book in the box and step by step procedure is there..

I personaly always love Luvlap products as  they always think that our little one gets the comfort that's next only to the warmth of our lap.
Things which i like in this Steriliser
1) Kills 99.9% of harmful germs
Sterilizing protects your baby from particularly harmful bacteria until his immune system is strong enough. Luvlap Sterilizers use the hospital method of steam sterilization, which is quick, easy, and effective, with no chemicals involved.
2) 24 hr protection
The contents of the sterilizer stay sterile for up to 24 hours if it remains unopened, meaning you can run a cycle, then return later in the day when you need to use a bottle or pump. This is particularly useful for those overnight feeds-there's no need for a tired mum or dad to wait for the sterilizer to finish its cycle while a screaming baby waits for its milk or formula.
3) Light indicator allows easy and precise operation
4) Bpa free all materials made of 0 percent bpa materials
6) Food and bottle warmer also warms milk, water or food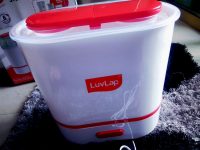 7) Auto shut off after sterilization process is complete it automatically shuts off
8) 6 minute cycle & auto shut-off
Your bottles and accessories will be sterilized in just 6 minutes. Once sterilization is complete the device will shut off automatically, ensuring extra safety and less energy consumption.
9) No maintenance required
10) Fits all bottle types
The sterilizer has been designed to fit both wide neck and narrow neck bottles as well as different breast pumps and accessories. This gives you the freedom to choose the bottles and accessories that best suit you and your baby.

HOW TO USE IT
You need to simply pour in water in the given space and plug in your electric steam sterilizer which work by using high temperature steam to kill germs and bacteria on your baby bottle and nipples. Electric baby bottle sterilizers also remove smell from bottles. When placing bottles and nipples in electric sterilizers, be sure that the openings are facing downward to allow steam to sterilize your feeding gear as efficiently as possible. Not just bottles, even breast pumps and weaning cutlery should be sterilized as well. Steam sterilization is quicker, safer and more efficient than boiling.


Things which i don't like
1) It is not travel friendly as the size is too big.
2) Luvlap missed out is a detachable power cord. If that too given then it would have been easier to wash the unit.
But, that is not a major drawback i give 4.5* out of 5*
So now we don't boil bottles as Boiling does not kill all bacteria and spores. Still if you chose to boil feeding utensils, you need to regularly check your nipples for damage. Boiling water is known to damage baby bottle nipples much quicker than other sterilizing methods. Also if you are not careful, you risk burning yourself too. Buy it from Amazon.