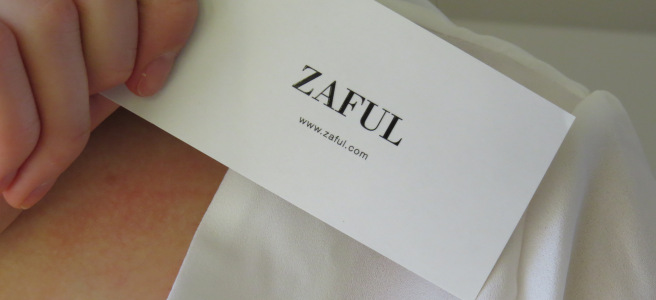 I am shopaholic and love to try new outfits. I was planning an overseas trip and was scrolling through different kind of dresses. A friend of mine suggested me to check the amazing advertisement from (Zaful). I couldn't resist myself from visiting their website. I must say, if you are a shopaholic you would love to spend time here.
Zaful has spectacular collections of all kind of dresses, the best part about Zaful is, and the price is super affordable. I found all the dresses very stylish and highly affordable. The dresses are in trending fashion. I count resist buying myself amazing dresses from the website.
Here are the beauties which I got from Zaful
1. Batwing Sweater with Mermaid Skirt – Grey
I am a big fan of the sweater, I found this Batwing Sweater with Mermaid Skirt to be super fashionable and stylish dress (here) . It fits perfectly and has a bust of 41.73 inches. The total length of Sweater is 17.72 inches. The Skirt has a perfect length of 26.38 inches. I liked the sleeves most, it has the trendy length of 22.05 inches. The design is very unique and high in fashion. The fabric of the dress is made with nice fabric.
Price: I paid only $75.99 for this beauty, isn't that cool.
Online resemblance: The order totally matched the online photograph.
Overall Rating: This cute dress is the perfect choice for all kind of holiday and evening outings. I would definitely give it a 5 star.

2. Velvet Pleated Mermaid Dress – Coffee
For a relaxed evening dinner, I chose Velvet Pleated Mermaid Dress – Coffee dress. This beauty gives elegant look and is perfect for all type of casual outing. The fit is extremely relaxed, Velvet Pleated Mermaid Dress is available in 3 exciting colours, grey, black, and coffee. I seriously had a tough time finalizing the colour. The best part is, the dress is available in 3 different S. M and L. You can select your perfect fit. It is not too tight on the skin and the waist area is super flexible. Perfect for those who want a super chic look. This one is the perfect choice for those who love to carry elegance and style. The fabric is very gentle on skin. I got a coffee shade for myself.
Price: I got. Velvet Pleated Mermaid Dress – Coffee S for a steal deal, yup I paid just $31.99
Online resemblance: The received order was same as mentioned in the picture. I can definitely say, they have pictures of their own and not copied from other websites.
Overall Rating: I can't give anything less than 5 stars because this dress has added more beauty to me. Everyone was complimenting me.
All the collections at Zaful are irresistible and classic. The best part is, the order which I received was the same. The quality and the colour are same. If you are looking for a reliable online option to shop , you must try Zaful.