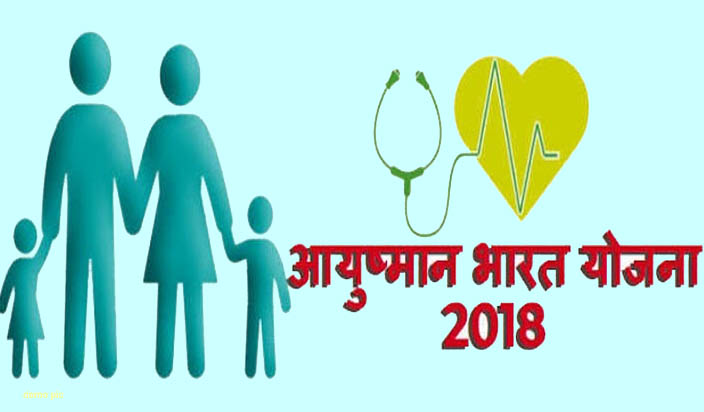 Modi Government leads to another important milestone and achieved a new momentum in reaching a goal to benefit all Indian which everyone should embrace. 
PM Narendra Modiji today announced that Pradhan Mantri Jan Arogya Abhiyaan on this Independence Day, also known as Ayushman Bharat or the National Health Protection Mission (AB-NHPM) or  Modicare, will be launched  on 25 th September 2018 its aims to provide a health cover of Rs 5 Lac to 10 Cr families helping secure Indians most vulnerable people in face of double digit growth in medical inflation.
It plans to coverage upto 5 lakh rupees per family per year for secondary and tertiary care hospitalization. Ayushman Bharat – National Health Protection Mission will subsume the on-going centrally sponsored schemes –  Rashtriya Swasthya Bima Yojana (RSBY)  and the Senior Citizen Health Insurance Scheme (SCHIS).
It is assumed that 100 million families will get benefited from from this scheme. Salient Features of the Scheme
1. Ayushman Bharat – National Health Protection Mission will have a defined benefit cover of Rs. 5 lakh per family per year.
2. Benefits of the scheme are portable across the country and a beneficiary covered under the scheme will be allowed to take cashless benefits from any public/private empanelled hospitals across the country.
3. Ayushman Bharat – National Health Protection Mission will be an entitlement based scheme with entitlement decided on the basis of deprivation criteria in the SECC database.
4. The beneficiaries can avail benefits in both public and empanelled private facilities.
5. To control costs, the payments for treatment will be done on package rate (to be defined by the Government in advance) basis.
6. In case of hospitalization, you or your family members do not need to pay anything under the scheme provided you go to any government or empanelled private hospital.
7. Ayushman Bharat is unlike other medical insurance schemes where there is a waiting period for pre-existing diseases. All kinds of diseases are covered from day one of the Ayushman Bharat policy. The benefit cover includes both pre and post hospitalization expenses.
8. If you are eligible under the health insurance scheme, you get automatic coverage. Eligibility is based on Socio-Economic Caste Census (SECC) database
9. States would need to have State Health Agency (SHA) to implement the scheme.
10. To ensure that the funds reach SHA on time, the transfer of funds from Central Government through Ayushman Bharat – National Health Protection Mission to State Health Agencies may be done through an escrow account directly.
Eligibility criteria for Ayushman Bharat scheme:
1. In rural areas:
a. 1.Families living in only one room with "kuchcha walls and kuchcha roof"
b. Families with no adult members aged between 16 and 59
c. Female-headed family with no adult male member in the 16-59 age group
d. Families having at least one disabled member and no able-bodied adult member
e. SC/ST households
f. Landless households deriving major part of their income from manual casual labor
g. Destitutes and those surviving on alms
h. Manual scavenger families
i. Primitive tribal groups
j. Legally-released bonded labourer
2. In urban areas:
a. The government has made a list of these 11 occupational categories of workers who are automatically included in the list:
b. Rag picker
c. Beggar
d. Domestic worker
e. Street vendor/cobbler/ hawker/ other service provider working on streets
f. Construction worker/ plumber/ mason/ labour/ painter/ welder/ security guard/ coolie and other head-load workers
g. Sweeper/ sanitation worker / gardener
h. Home-based worker/ artisan/ handicrafts worker / tailor
i. Transport worker/ driver/ conductor/ helper to drivers and conductors/ cart puller/ rickshaw puller
j. Shop worker/ assistant/ peon in small establishment/ helper/ delivery
assistant / attendant/ waiter
k. Electrician/ mechanic/ assembler/ repair worker
l. Washer-man/ chowkidar
This post is a part of "Monsoon Blogging Carnival" hosted by Sayeridiary and my  Jhilmil .. Thanks Snigdha for introducing me..
So the next station is Nimsstylefile.com  – a blog by Nimisha.  A must read for all those brothers who are confused with the gifting part.