It's that magical time of the year – the aroma of freshly- baked plum cakes has begun to permeate the air, Church choirs are rehearsing their carols and children are drawing up their list of demands for Santa Claus, as Christmas trees and decorations glitter in the market. As the word celebrates Christmas on December 25, various regions in India also soak in the spirit of the festival and commemorate the birth of Jesus Christ in their own special way. Here are six among them.

KOLKATA
Park Street was the social and Christmas capital of the country till the 1960s. The Naxalite years and the economic decline under the Communists killed its vibrancy.Christmas decorations are sold in the center of New Market, an iconic Kolkata building.   The highlight of the Christmas Festival is getting cars off Park Street (officially, Mother Teresa Sarani). On the Sunday before Christmas, there's a four-hour parade, led by schoolchildren. On Christmas Day itself, Park Street is out of bounds for cars for most of the day – from 2.00 pm to 10.00 pm.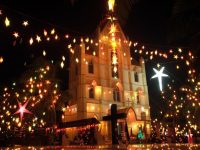 KOCHI
In Kerala, Christmas is celebrated in the traditional way, with a dash of local flavour. Devotees gather in churches across the state for midnight mass. Several days prior to Christmas Eve, homes, shops,malls and offices are decorated with signature Christmas adornments, such as a crib, a traditional Christmas tree and stars of varying sizes and shapes. In the evenings, carol groups visit homes, a popular practice particularly in the countryside, where the groups are much larger. Come Christmas day, and a customary feast involving Friends and relatives takes centre stage. Among the most revered churches where Christmas is celebrated is the St Francis Church in Kochi, believed to be one of the oldest built by Europeans in India. It is also where Vasco da Gama was buried before his mortal remains were exhumed and taken back to Portugal.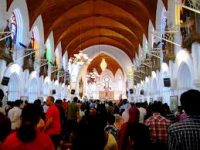 CHENNAI
Tamil Nadu also celebrates Christmas with cheer. Churches are brightly decorated with lights and see large gathering for midnight mass. The Santhome Cathedral Basilica in Chennai, the capital, attracts a lot of visitors. The Church is built over the tomb of At Thomson, one of the 12 Apostles of Jesus Christ.

GOA
Christmas celebrations in Goa go beyond the gates of the churches and spill over into the streets for everyone to enjoy and take part in. It is a time for merrymaking and exchanging gifts. Christmas in Goa is also about delicious cakes, puddings and delectable local dishes. Churches across Goa, such as the Basilica of Bom Jesus, Church of Our Lady of Rosary ( the oldest surviving Church in Goa) and Church of Our Lady of Immaculate Conception, reverberate with hymns and prayers. Do not forget to visit the markets of Mapusa and Panaji for Christmas goodies.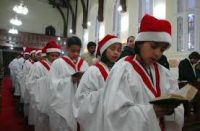 SHIMLA
With of without snow, Christmas in Shimla is magical. Churches across the city, especially At Michael's Cathedral and Christ Church, wear a festival look and have a steady line of visitors all day long. Church going crowds throng The Ridge and Mall Road to feast on special cakes and pastries baked for the occasion and ring in Christmas day with great fanfare.


SHILLONG
Christmas in Shillong comprises visiting friends and family to exchange greetings and sharing special festival delicacies. Families lay out a generous spread of dishes for visitors, the most popular being dohneiiong, a meat- based delight, and a traditional Christmas cake. Midnight mass sees the Cathedral Catholic Church filled to the doors while Christmas cheer resounds across the hills. Shillong boasts an egalitarian society, which is best reflected during Christmas day when people visit orphanages, old-age he's and hospitals with food and gifts.
#flavorsofworld