Of lately I had some free time as my in laws and daughter had gone to visit my brother in laws family and my husband had to suddenly go out of station for his office meeting. I just wanted to spend some quality time with myself before heading for a matinee show. Thus I brewed some coffee for myself and sitting on the window aisle I was reading the newspaper. My favorite addiction that I had to bid adieu because of my super hectic schedule and also lack of time in spite of being a pro at multitasking. Page by page, line by line and sections by sections, I finally reached to section of matrimony.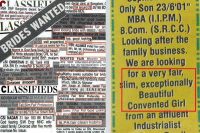 Ahh! down to down rather all of them stated we need well-educated brides, some went to the extent of asking for convent educated brides or working brides. Irony of life men need to get educated so that they get good job and then marry a nice, beautiful, educated and working lady just to do the chores of the house and in addition if she is working and earning it's a great show off. Desiring this is not wrong but when the society desires something but does not support it and that is wrong.


We claim equality and agree to the fact that husband and wife in a relation are at equal position. If the husband gets transfer from the job it is a deemed fact that wife will shift with him, but if the same transfer is offered to wife will the man ever shift with him. No, a lady is up the many nights preparing for a project, then gets up in the morning and does all the chores, on the day of presentation gets ready in the crisp shirt and formal pants. As she is about to set her foot out a voice comes do not go to the office as other in law or any other is not feeling well and needs to be taken to the hospital. In the entire family it is the lady who will do the needful, whereas the rest will carry on with their usual jobs. This is sad and like a movie, life does not give you second chances or miracles happen that you get selected for the promotion.
Her job promotions and aspirations are equally important, if there is a necessity or emergency someone else from the family could also take the responsibility. All I feel is that it is your family as much as hers and contribution should come from everyone. As the very base of family is one for all and all for one.
Coming to housewives or as they call stay at home moms. Even she is capable enough of achieving all heights in life but she chose to stay at home for the benefit of everyone in the family. She did not run behind her dreams rather made your dreams hers and contributed towards fulfilling your dreams. So when you ask her to leave that chores of the house to switch to work that is wrong. Her household work or taking care of kids is equally important. Respect her contribution towards the family.
We are in a gender equal society and lets practice this from our homes.