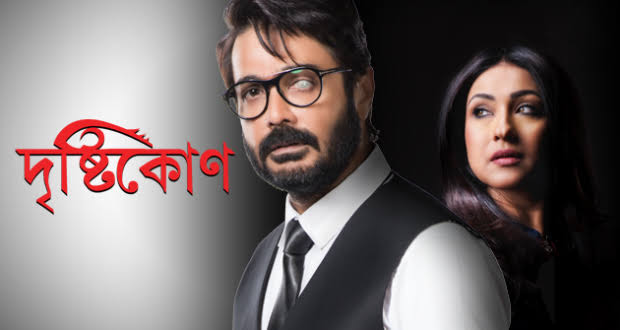 I am a big Bengali movie buff and a huge fan of thriller films and was keen to watch Drishtikone, being a fan of Prosenjit Chatterjee. I was also looking forward to seeing Kaushik Ganguly's direction and I wasn't disappointed. The plot has all the needed elements hence this movie was totally irresistible for me.
My daughter is just 4 and it is not possible for me to catch the movie in the theater, I took the ZEE5 subscription and enjoyed it on my TV. I must say, the story will keep you glued. Here is my detailed review.
Story Line  
The story begins with Srimoti Sen seeking the help of a lawyer Jiyon Mitra as she lost her husband in a road mishap, a couple of years back. She thinks there is a foul play involved and it is not an accident.
Srimoti Sen is the wife of the famous ophthalmologist in Kolkata city, the couple is childless. Her husband supports her every time and showers her with unconditional love. The car accident leaves her alone. The husband's elder brother is also paralyzed from the waist down after the deadly car accident.
Srimoti Sen hires the best lawyer in town named Jiyon Mitra. He had lost his eyesight due to a serious infection but after the cornea transplant, he regains vision in one eye.
Jiyon Mitra begins to investigate the accident case and Srimoti finds herself being attracted to the lawyer. They both commerce into a dangerous relationship which is a potential threat to Jiyon's happy married life. The reality behind the dangerous car accident begins to gradually unfold.
Movie Review
The entire plot is interesting and the screenplay is extremely promising. The director Kaushik Ganguly has managed to give refreshing movie experience to the audience. You can't miss a single scene. This is the beauty of its storyline. It keeps you glued to your seats.
The movie is full of unexpected twists and makes you doubt its characters. I personally enjoyed watching the romantic track of Srimoti and Jiyon on the screen which didn't seem forced.
Rituparna Sengupta does complete justice to the role of a widow, she switches between soft and strong personality. She is battling every passing day. The half visually challenged lawyer's role played by Prosenjit Chatterjee is done with great conviction. His acting skills are beyond par. He finds himself torn between his happy home and the case he is involved in.
Apart from the lead character, Churni Ganguly (lawyer's wife) plays her role with utmost grace. The role is essayed by her with great ease. The role of Kaushik Ganguly as a wheelchair driven individual is also commendable.
Overall, with an amazing script and terrific performances, Drishtikone is a perfect movie for those who like watching thrillers.