Bhale cheen lo mujhse meri jawaani , magar mujhko lauta do bachchpan ka saawan….a beautiful song true for me word by word. You may be wondering and pondering why? I have done thesis on this topic and here are a few reasons for which I would like to get back to my childhood.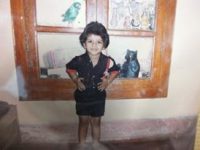 There is no denial to the fact that childhood is the best part of life for every human being. Childhood and innocence are synonyms. Not only the word innocence but fun at its peak and carefree life are also synonym to childhood.
Childhood is the best part of life when you are either the little man or little girl in your parents life. There is nothing that worries you, all you are concerned is about the celebrations of your birthday or attending your friend's birthday or at the most planning celebrations of some festivals. You are never concerned of your future goals or what will I do tomorrow? It never concerns us what will happen if I do not wake up early tomorrow morning. The future has no important significance for us. All we are concerned is about present and what we are doing to day. Childhood phase sets us free from all the constraints of the real world. We do not have any responsibility on us.


My childhood was all the more special as I come from a joint family set up. With grand father who would shower the love of both grandmother and grand father on me( I did not have grandmother)on me, to uncles and aunts who would fulfill all my wishes. Most importantly bunch of kids as cousins who tend to be my best friends till date as we were the first friends for each other. Playing pranks on each other or gearing up for the celebrations of festivals, or taking permission from each other's parents. We were totally partners in crime. Deciding the destination of picnic or setting up lottery for deciding the venue. Even we had a small democracy at our home and majority wins was the rule. Although it was simple as to get vote bribe would be two pieces of chocolate or a new eraser at most. All the childhood memories will forever stay close to our hearts and bring a smile on our face whenever we think about those good all days. You grow up amidst all love and care in the nut-shell. Nothing worries you.


Kids are considered as form of God on the Earth and my family truly believed in it. My whole family helped me in growing in to a better person but they instilled humility in me. Learning the basic values of sharing and compassion or listening to the stories of courage or righteous behavior from our grannies made my childhood so special.


If my one wish would be granted I would like to return back to my childhood and enjoy the games of snake and ladder, or dark room secret or just sail a boat in the rain, or just sit in the round table conference to discuss the most silly matter. My childhood was the golden period of my life and the childhood memories are a part of my heart that I will cherish for the rest of my life.
My earlier wow post check here
an initiative for Indian Bloggers by BlogAdda.'
This time also i won WOW BATCH