The love between a mother and her children and grandma and her grandchildren is unparalleled, and deserves to be honored in the most special of ways be it any day. A timeless classic gift could be of a custom made handmade portrait. It could be of any special moment that you have shared with your mother, or maybe a family portrait that could sit in your drawing room, looking all pretty and handsome. PortraitFlip comes into play here.


If someone ever asked, why so much to a mother and her care, the answer would be indefinite. Their love can never be repaid. If miracles could be measured, all the scales would have broken. If beauty could be compared, all balances would be faulty and if blessings could be counted, infinity would seem less. No one has ever asked.
The timeless love being expressed through the colours enhances your relationship by recollecting the moments. Such flash ons have a positive effect every individuals. The wonderful connection shines through the thoughts put into to give such a personalised gift.

Granny holding her grandchild in her arms is one of the most beautiful sight in the world. The love she bestows upon the kids is immeasurable and certainly of the purest kind. Why not surprise your Grandmother, by recreating one of the stills from the long lost golden days into a beautiful piece of handmade art?

What a mother does and goes through for her child's happiness can never be talked about. Certainly the infant stage is the phase most missed by the mothers. With every passing day, the baby learns a new thing. Every rising sun brings out the first day of something new, be it baby's first words or their first step themselves. Won't your mother be overwhelmed to get a flashback of these memories and walk down that lane again?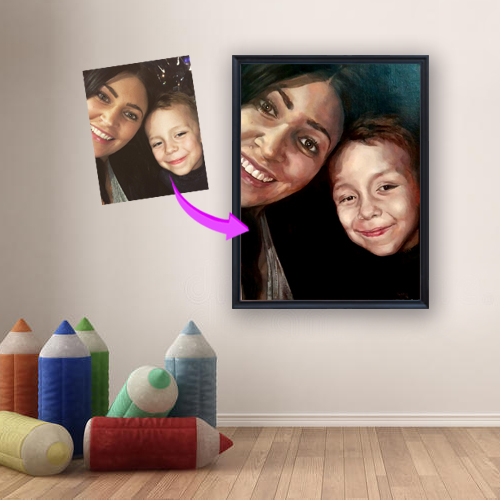 What a great idea would it be to gift these moments again to your mother? Rather than cliched gifts life chocolates, greeting cards etc, a personalised gift is much more touching and makes your mother feel special. All these good memories constitute a part of our good lives. We can't be thankful enough for them. The people we share these good times with, definitely hold a very special place in our hearts. Those instants well etched in our minds are to be cherished forever. They are a source of such positivity in our lives which cannot be done without.

Her children are her world. Her day revolves around them. To watch them grow is a happiness that knows no bounds and can never be understood by anyone else.
Gifting these memories again to your mother ensures a beautiful smile on her face, which she deserves by all means. A mother does everything possible for her family. To show her how much she is loved, let us remember those days again to express our gratitude.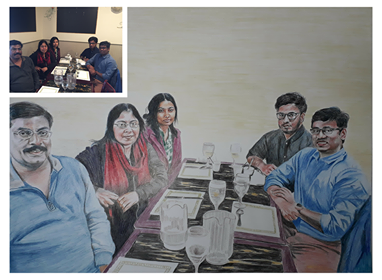 The process here at Portrait Flip is very simple too! Just upload a photo you like and select from a variety of mediums. Watch from many samples shown around here and select the way you like. Then just wait and watch how we transform a photo into a beautiful Portrait, and make your mother feel cherished and appreciated. Portrait Flip does not make paintings by any kind of software or any machine. The paintings are all handmade. They are made by the artists focusing on every minute details of the images and making even the tiniest of the detail visible and making your artwork truly unique.
PortraitFlip is where you can turn your moments into beautiful paintings. All sorts of customized paintings are done here and for any occasion. Be it Birthdays, Anniversaries, Mother's Day, Father's Day, Valentine's Day or any other special occasion; Portrait Flip happily customizes your portrait to make your gift very special and touching for your loved one.
Also, you can choose from a wide variety of mediums such as oil painting, watercolours, acrylic colours, coloured pencil, pencil sketch or charcoal sketch. Sizing option is available to suit your requirements. Every medium brings out a different beauty of the portrait and PortraitFlip helps you enhance the quality in every way.
PortraiFlip has to offer free shipment worldwide. Complete customer satisfaction is guaranteed. They assure 100% money back without asking any questions in case of a dissatisfied customer. Each artist give in their best for the smile of our happy customers. They have superior customer services and exceptional product value. With a multi-tire quality check process and lowest prices guaranteed, PortraitFlip definitely is the best website for this job.