Bangalore is a dream destination and a perfect place to hop around. you can take a break from your busy schedule and have fun because the climatic is always pleasant. Bangalore has got everything starting from indulging into adventure trips to admire the beautiful nature.
here are some amazing and kid-friendly places in Bangalore where you can spend a day. I can assure one thing for sure, the weather is absolutely complimenting and you will have a blast with your family.

1. Nandi Hills
The splendid Nandi hills is a superb place at Bangalore. It is located just 60km away from the city. you can start early morning at 4 am to view the marvelous sunrise. This place is the perfect destination for history lovers and you can also enjoy adventurous activities like cycling, rock climbing, and hiking.
Things to do at Nandi Hills
1. Treat your eyes with the amazing view of beautiful sunrise from the top of Nandi hills. Enjoy the cool breeze and fall in love with nature.
2. you can witness an eye-catching view of entire Bangalore city from Tipu's drop. The Tipu's drop was originally a place for punishing the
prisoners. They were pushed down from this cliff to dies.
Tips
1. It is best to start your day early so that you don't miss the sunrise.
2. It is better to carry homemade food as you won't have much food options at Nandi hills.


2. Snow city
The weather at Bangalore is always pleasant but still, if you want to beat the heat and enjoy snowing then snow city is the perfect destination for you. The entire snow is Eco-friendly and is made using pure drinking water which makes it absolutely safe for the kids. the Temperature at snow city is of -5° C which is rib-tickling cool !!
Things to do in snow city
1. you can built beautiful snow castles with your kids and enjoy a slide via rubber tubes. What is better than clicking pictures in a snow white castle !!
2. Dance with your family in the snow floor, expertise the chillness.
Tips
1.you can get Shoes, Jackets caps Gloves by paying an extra amount.
2. you can safeguard your mobiles and camera by keeping it inside lockers as the chillness can spoil your gadgets.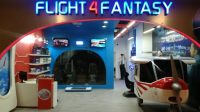 3.Flight 4 fantasy
This is for the adventure enthusiastic people and a must visit place for kids. If your kiddo loves airplanes and fights then you can bring the kid here and give him/her a virtual flying experience. Flight 4 Fantasy has a light simulation center with 4D setups which gives you real flying experience with high definition 3D visual.
Things to do at Flight 4 fancy
1. you are the captain who gets a real time flying experience of different fight simulators like Boeing 737 NG, Cessna 172 or Fighter jets. you will don the cap of the pilot and take care of landing, facing challenging turbulent skies.
2. Click cool pictures of the cockpit and flaunt it on your social media.
Tips:
1.There is no option of advance booking, you need to walk in and have fun.


4. Bannerghatta National Park
If your kids love nature and wide life then Bannerghatta National Park is a perfect choice. you can explore the wildlife on a safari, they will take you through the dense natural forest. This place is a home for various wildlife creatures like deer, white tiger, bear, lion, birds, snakes, butterflies.
Things to do at Bannerghatta National Park
1. Bannerghatta National Park has an option of wild safari, where you can watch freely roaming wild animals in the dense forest. Additionally, you can get a spectacular view of lush greenery and natural forest.
2. Another amazing thing to do at Bannerghatta National Park is watching colorful flying butterflies. Kids will go crazy, I am sure, the elders also won't be able to stop the kids inside them.
Tips
1. you can carry homemade food for yourself and kids.
2 . While going for the safari and exploring wildlife, always have an eye on the kids. Safety comes first.


5. Lal Bagh Botanical Gardens
Lal Bagh Botanical Gardens is a beautiful garden with amazing flora collection. you visually treat yourself with the beautiful varieties of flowers and plants. Additionally, kids will have fun roaming around the park and you can also have a relaxing walk with your partner. Lal Bagh Botanical Gardens is famous for the spectacular flower exhibitions too.
Thing to do at Lal Bagh Botanical Gardens
1. Fall in love with nature and witness a huge variety of flora. you will be amazed to get knowledge of different plants and trees. you can also see old trees and glass house where flower show is conducted.
2. you can also buy seeds of plants and flowers from the horticulture department. indeed gardening is the best thing, which you can teach your kids.
Tips:
1. you can carry homemade food and have a picnic with your family.
2. Carry outdoor toys like a ball, badminton so that kids can have fun too.
3. If you are book lover, carry your favorite book , you will have enough time to read when your kids are busy playing.
All the mentioned place are totally kids friendly where you can also have fun with your partners. Don't forget to enjoy and click lovey pictures. At the end of the day, its all about spending memorable time with your family which you will cherish for entire life.