What is Air Purifying Bag
It is a simple and highly effective option to keep your home odor free. These air purifying bags works as a natural air purifier and keeps your home from all sort of airborne chemicals. It is the best option to promote good health naturally by keeping the pollutants at bay. The significance of using Breathefresh Vayu Natural – Air Purifying Bag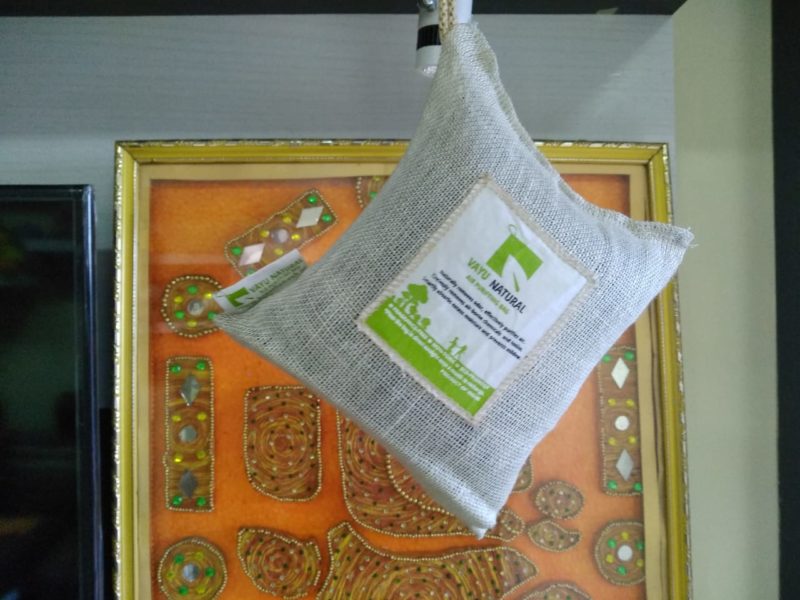 1. Keeps the air fresh
The Vayu Natural -Air Purifying Bag helps to flush out the maximum odours, and pollutants in the air. The purifying bag is super powerful which helps to remove the unwanted bad smell inside your home air. It is best to use especially in the office, home, kitchen, basements and even bedrooms.
2. Reduces the formation of molds
The air purifying bag is super powerful and helps to clear the excess moisture in areas like bathroom, kitchen, storage shelf etc. The Vayu Natural – Air Purifying helps to prevent the formation of moulds, bacteria etc. It is the best companion to store and safeguard all your valuable fabrics, it keeps them fresh for a long time.
3. Portability
The Vayu Natural – Air Purifying Bag comes very handy, it is best to use as soon as you unbox it. You can place it literary in every nook and corner of your house like closets, shoe racks, washrooms, kitchen shelf etc. It helps to flush out all the unwanted odour, breeding allergens etc.
4. Natural
The purifying bags are made with all highly effective natural ingredients and free from chemicals.
Major air purifiers make use of chemical loaded ingredients which helps to absorb bad odour but
Vayu Natural is totally natural as it promises.
5. 3x Extra Power
Each bag of Vayu Natural contains 3 layered technology which helps to increase the total strength and durability of the product. It removes high stubborn odors, and pollutants found in the Indian homes.
6. Safe for Kids
Breathefresh Vayu Natural Air purifying bag is totally safe for kids as well as pets. It doesn'st contain any fragrance or chemicals. All the ingredients are non-toxic and BPA free. If you are selecting an eco-friendly option to safeguard your home, then choose Vayu Natural – Air Purifying Bag.

Why Choose only Vayu Natural Air Purifying Bag
1. Vayu Natural Air Purifying Bag are very powerful as compared to the small pieces of regular charcoal bags, it can perform strongly up to 2 years.
2. You can recharge the Vayu Natural Air Purifying Bag by keeping it in the sunlight every month.
3. Once the Vayu Natural Air Purifying Bag expires, you can use it as a natural fertilizer for plants too.
4. Vayu Natural Air Purifying Bag is free from harmful chemicals and keeps the air fresh. In short, you can protect your respiratory system from bad air and pollutants.
5. It is perfect to use in homes, washrooms, cars, office and even closets.
6. The Vayu Natural Air Purifying Bags helps to trap microbial in the charcoal combs, it is almost impossible for the moisture and mould to escape the trap.
Breathefresh Vayu bag is available in various sizes basis your comfort and placement.
So buy your indoor air purifying bag from Breathefresh.in or grab the bag now from Amazon