The importance of vitamins and minerals in our life is immense. We cannot deny that striking the right balance of vitamins and minerals is not easy. We eat good quality food but the authenticity or the organic aspect of food cannot be trusted. Moreover our lifestyle has detoriated and we eat to stuff our stomach rather than appreciating the nutritional value of food. Even the availability of good quality food is not there and there are certain vitamins that are available in non vegetarian foods that is absent in the diets of vegetarians.
BENEFITS OF VITAMIN B COMPLEX:
One such Vitamin is B complex, it works to regulate the levels of homo cysteine (an amino acid associated with heart disease). It also helps the body to produce hormones such as serotonin and melatonin and norepinephrine. These are sleep and stress hormones and they alter your mood and energy levels. Vitamin B plays vital role in ensuring that our bodies operate efficiently. It helps to rid of particles that can damage our cells, it also ensures that body can produce new healthy cells, it also helps to treat skin conditions like acne, it also helps to do away signs of aging and improving blemishes, redness and spots. This is not all it can also improve the conditions of patients suffering from arthritis. Even during the pregnancy it helps in the normal growth of baby. It is also beneficial in case of diabetes, it helps to control blood glucose levels. It can also be called the beauty vitamin as it improves the overall appearance of skin, hair and nails. It also helps in the prevention of memory loss. The main role of B complex is to facilitate the proper functioning of other vitamins. It helps the body to produce the red blood cells as well as to produce hemoglobin.


DEFICIENCY SYMPTOMS OF VITAMIN B COMPLEX:
Lack of Vitamin B complex can lead to anemia that is low blood count. This could lead to tiredness, fatigue, breathlessness, headaches, dizziness, pale skin, loss of appetite and reduction in weight. It could also lead to sore tongue, mouth ulcers, paraesthesia, irritability and depression. It could also result in birth defects in developing babies, it may also result in skin disorders like irritation or a rash. Deficiency of this vitamin leads to increased risk of infections. Thus it is inevitable that it is definitely one of the most essential vitamin.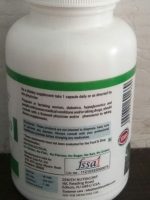 Price & Availability
180 Vegetarian capsules are priced at Rs. 800 but available at a discounted price from Zenith Nutrition Website. The capsules are also available at Amazon.in
HOW TO FURNISH VITAMIN B COMPLEX IN BODY:
Vitamin B complex is commonly found in salmon, egg yolks, chicken, pork, turkey, tuna, legumes, nuts and seeds. Thus it can be concluded that it is not found in the veg diet. Even the quality of non- vegetarian diet cannot be trusted upon. But its importance is immense so the only option left is the consumption of supplements for Vitamin B complex. The market is flooded with such supplements but again either they are highly priced or their worth is doubt able. Thus from my experience I would highly recommend this one supplement that is Zenith Nutrition Vitamin B complex 100. The product is not highly priced it comes for Rs. 499 for 100 capsules.
My health was in its worst when my friend introduced to this supplement. My hairs were falling, nails had become brittle, my mood swings were creating amiserable situation for all at home, my energy levels were always down. To conclude I was not a pleasant person anymore. However adding this supplement to my life made a lot of difference. I am a better person with better looking skin and whole new levels of energy in my life.
Disclaimer:
Warnings : Pregnant or lactating women, diabetics, hypoglycemics, and people with known medical conditions and/or taking drugs should consult with a licensed physician and/or pharmacist prior to taking dietary supplements.
#flavorsofworld