Delhi NCR the polluted state of the country and the levels of pollution rise to an alarming rate after the Diwali celebrations. There is so much of pollution in the air that seems to full of smog and the visibility drops down.
Coming to the matter burning of firecrackers during the festival has increased to leaps and bounds making Delhi the worst city of the world. That kind of air is unsuitable for anyone to breath. The three bench comprising Justice AK Sikri, Abhay Manohar Sapre and Ashok Bhushan have made the decision to be implemented till November 1 that the crackers will not be sold in the Delhi NCR.

The sole intention of the ban is to test the quality of the air or let us hope that this ban brings some positive effect on the air this Diwali. The situation will be reassessed before and after the Diwali to check the quality of air. However there is ban on the sale of the crackers and not on bursting the crackers, so it is a half ban that will not completely solve the issue. Rather it would lead to black marketing of the crackers and this is a greater violation of law. This would affect the mentality of the kids as it will clearly highlight the socio-economic difference in the city between the rich and poor.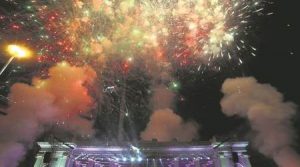 However the health activist are welcoming this decision with heart as they are seeing it as a drive to clean the air. They claim that pollution is as it is five times higher than the safe standards and this gets aggravated to 10 to 12 times during the Diwali period. The supporters of the decision are not against the celebration bet they are supporting celebration in a different way. The ambient air quality should be 60 micrograms per cubic meter in any 24 hour cycle. This is alarming in Delhi as being 300 and during the Diwali period it goes high up to 700. Diwali
is the festival of light and not crackers so light your houses rather than bursting the crackers and polluting the environment.
This ban is a good move towards the betterment of the quality of lives in Delhi NCR but there are so other triggers that are causing the damage to the environment. To maintain internal law and order and prevent any unrest in the
society the Government, Supreme Court and other governing authorities should try to sit together and frame the laws that suit the interest of the community as a whole. The duty of common people here being is to support the authorities and help in the smooth implementation of the laws.
We need to rise above the religion and community and join our hands together as Indians and help the government in implementing such laws and give the future generation the gift of clean and pure environment.
#FLAVORSOFWORLD.COM FLAVORSOFWORLD