Your idea of cloth diaper may be a big piece of cloth that you tie around your baby. However the world has evolved and so has the cloth diapers. A whole new technology goes in the making of these cloth diapers. It can simply be said that the old cloth diaper has received a great hush of modern technology and will prove to be the best choice for your baby.
Any change is difficult and changing from the staple disposable diapers to the cloth diaper can pose many queries in the minds of the moms. Thereby based from my experience here is a list of common questions and their answers that any mom may have before making the change.

1] DO YOU USE CLOTH DIAPER WHEN YOU TRAVEL
Most definitely the company bumberry makes diapers that come with a panty and three pads. They have that extra absorbent layer and so are good even when you are travelling. Just change the pads and wash it when you can. Carry pads for your baby and you are set to travel.
2] IS IT SAFE AND HYGIENIC?
As they are reusable and made of cotton rather than plastic and are not full of chemicals they are the best option for your baby. There is chemical in disposable diapers that makes them extra absorbent and keep the baby dry in it for hours. This chemical is dangerous for the baby and environment thus it should be avoided.
3] WILL NOT MY BABY GET RASHES?
These are extremely safe for your baby as they are natural and have no chemical in it. They are required to be changed in every 2 to 3 hours thus your baby remains fresh and rash free.

4] WHAT'S THE BEST WAY TO CLEAN CLOTH DIAPERS?
Simple to wash, just as you are ready with the stash and the soiled pads have been cleaned of the poop, just soak them in the pail of water with detergent and then simply rinse. Or wash them in the washing machine with a clear detergent and then give them a through rinse and your are sorted. Dry them in the sun and they are ready to be used.
5] WHAT KIND OF CLOTH DIAPER DO YOU RECOMMEND FOR BABIES WITH EXTREMELY SENSITIVE SKIN?
You must have heard that moms often complain of the rashes that their baby's get from the disposable but with cloth diaper and from the premium brand bumberry any skin irritation due to diapers will be a long forgotten thing. They do not have chemicals and are of cotton so ideally they are the best option for babies with sensitive skin. Also with cloth diaper you will not use and rash cream thus another set of chemicals are avoided for your baby.
6] HOW LONG DOES CLOTH DIAPER LAST?
They last long and even last for the whole night. They are not the leaky messy lot and keeps the baby dry. One thing that you need to remember that once the pads are washed for 3 to 4 times they become more absorbent.
7] HOW COMFORTABLE ARE THEY?
They are like next skin highly comfortable and user friendly. The child can move freely as they are soft and light weight and does not weigh down the baby.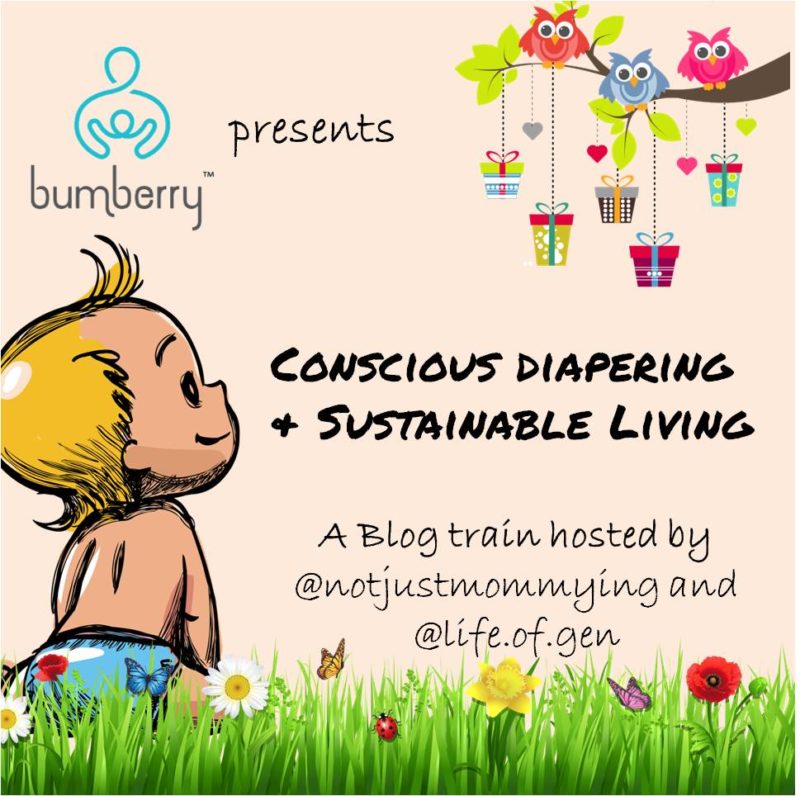 This blog post is a part of 'Conscious Diapering and Sustainable Living'. A blog train sponsored by Bumberry hosted by Genevieve  & Rashmi . Here 18 Supermoms have joined hands to share their perspective on cloth diapering and living an eco-friendly sustainable lifestyle. Thank you http://Www.babyandbeyond.in to introduce me in the blog train and now the train run to the blog station of Preety, a mom and lifestyle blogger.