Recently I joined a new kitty party. A friend of mine, Maya was wearing a fabulous jumpsuit. We all were liking it too much, after giving her all the compliments I inquired her about the cost. It was very shocking to hear that she got this amazing beauty at such a low price. She got the dress from Rosegal. I could not wait to go home and check the site.

Rosegal has amazing collections of dresses, jumpsuits, swimwear, shoes, bags, jewelry on what not. I spends more than 40 minutes to decide what to buy. The collections are plenty and price is super affordable. They have collections in all trending colours, patterns, and size too. I find my collection here
Here is the list of beautiful dress which I got from Rosegal.


1. Tiger Printed Glitter Fringed Plus Size Poncho Sweater – Light Brown – One Size
I love animal prints and couldn't stop myself from buying this stylish Tiger Printed Glitter Fringed Poncho. The item was delivered to my home in just 5 business days and the best part is, I didn't pay a single penny for the shipping Isn't it a steal deal ?. The light brown colour of the swearer just adds more grace to the animal print. I opted for 1 size, it has a length of 20.08 inches and can accommodate up to 18 sizes.
Price: I got this sexy sweater for just $20.59.
Online resemblance: The order totally matched completely as given in the Rosegal website.
Overall Rating: I can't stop gushing at the animal print, I would happily give a 5 star to this sexy sweater.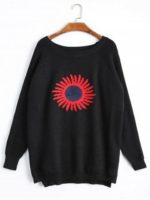 2. Plus Size High Low Sun Print Raglan Sleeve Knitwear – Black – Xl
This knitwear is perfect if you want to adorn yourself with a chic look. The knitwear comes with a graceful low sun print and raglan sleeves. I choose the color black because black is sexy anyway. The knitwear is available in all size, I got XI size which has a length of 21.65 inches in approximation. The dress can easily accommodate anyone who fits in the size between 14-16.
Price: I got this black beauty for $ 17.63. Yes, you read it right, it is just $17.63
Online resemblance: The parcel which I receive totally resembled the online picture. Perfect colour and print on it.
Overall Rating: This black beauty is perfect for a casual dinner or an evening get together. I would definitely give 5 stars for the amazing solid print of sun on it.
Rosegal has beautiful collections for girls, all the collections are eye-catchy and trendy at the same time. The best part is, all the products are delivered at your doorsteps. The shipment is free and I have received both the products on time. The online resemblance of the product is same. If you are looking to add more lovely dress, shoes, and bags into your closet definitely visit Rosegal once, you would be happy to see different trendy and high fashion clothes at very affordable rates.