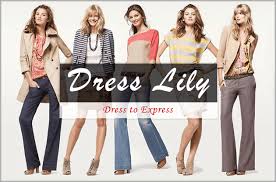 I am a proud shopaholic and I love to shop dresses. I explore new shopping websites and unique designs so I was searching for some chic looking dresses in google and came across the website of Dresslily.

The website Dresslily has got everything. Be it shoes, dresses, bags or accessories. I must say they have the best collection at an affordable cost. I loved all the deals and collections. They have even nice trendy dresses for men and plus size folks.
Here are two beautiful dress which I got for myself here

1. Capri High Waisted Palazzo Pants
I love palazzo pants, they are super comfortable and stylish at the same time. I have a huge collection of palazzo pants but didn't have one in grey shade. So, got this Capri high waist palazzo in grey color. You also have an option to buy the same in black color. This high waist beauty is available in different size like S, M, L, XL and also 2 XL. The fabric is super soft and comfortable for regular use. I paired this with pencil high heels to look super classy.
Price: I paid $25.52 for this amazing Capri High Waisted Palazzo Pants.
Overall Rating: I would happily give a 4.5-star rating to the outfit. This one is a perfect choice for a
casual dinner date.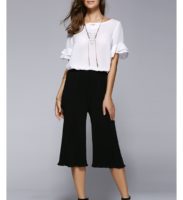 2. Ruffle Chiffon Blouse and Crop Culotte Pants
I am a big fan of chiffon blouse, I personally feel it compliments my look. The crop culotte pants give a chic and sleek look to the lower body. You don't need to accessorize it much. Ruffle Chiffon Blouse and Crop Culotte Pants is the perfect choice for a get-together and formal gathering. The pants have a length similar to Capri and comes with a high waist.
Ruffle Chiffon Blouse and Crop Culotte Pants are available in 4 exciting color combination. The best part is it is also available in all size from S to XL. The fabric is the mix of cotton and polyester and the closure type has an elastic waist which won't hurt your tummy.
Price: I got this mesmerizing Ruffle Chiffon Blouse and Crop Culotte Pants for just $29.12
Overall Rating: I can't give anything less than 5-star because I got the entire dress off just $29.12.
Top 7 Reasons You Should Buy With Dresslily
Below are the Top 7 Reasons You Should Buy With Dresslily

1) Value for money
If you want 100 % value for your money, Dresslily is your place. You would get a better price. You can buy more and definitely save more. There are exciting deals running always.

2) Easy exchange
This is the best part about Dresslily, you can easily exchange the clothes as per your need and choice. The exchange policy is fuzz-free.

3) Free shipping
I don't think anyone happily pays for the shipping cost, Dresslily offers free shipping for all the purchase you have made. And the packing is professional too.

4) Size for all
Dresslily is one of the best websites which allows clothes in almost every size. In short, it has dresses for everyone.

5) Trendy
Dresslily offers beautiful dress in all latest trend. The collections are fabulous and new every time you check the website. They keep on updating their stock.

6) Supportive Customer Care
Dresslily values their customer most and offers best customer care service 24*7 to them without charging a bit extra

7) Worldwide shipping
Not only domestic shipping Dresslily offers free shipping across the world. It means you can always surprise someone with a fabulous dress without paying anything for the shipping.