In India, the entire family is excited and comes with all kind of suggestions when you announce you are going to deliver a baby soon. Almost every elder – starting from grandmother to aunty will advise you on what to eat and what to skip during the pregnancy. This does not stop here, they will also shower with all sort of advice even after you deliver the baby.
They will suggest you breastfeed the baby, things to feed the baby, which brand to trust and use for the baby. But, often people avoid talking much about baby wipes. They highly believe in cleaning the baby with clothes, this is majorly due to lack of awareness. Often, we think diaper rashes are caused due to excessive use diaper and we start changing the brand.
What is the major cause of diaper rashes?
Many mommies give diaper free time to the babies. Poor diaper takes all the blame when a diaper rash occurs at the baby's bottom. The main culprit of diaper rashes can be the clothes too. In fact, the ordinary wipes can also cause diaper rashes as they contain a high amount of polyester in it. It can affect the delicate baby skin.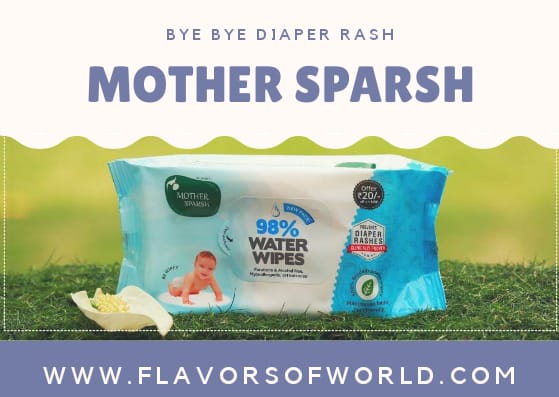 Diaper rashes and baby wipes
Diaper rashes are kind of contact dermatitis which happens at the baby's bottom. It is curable via some home remedies and diaper free time. The best practice is to provide ample of diaper free time to baby, frequent diaper changes, application of pure coconut oil at the baby's bottom and using a good baby wipes like Mother Sparsh water-based wipes.
Why Mother Sparsh Water Based Wipes
Mother Sparsh is India's First Water Based Wipes Brand which is made with 98 % of water, the best part is all the components of the wipes are 100 % biodegradable. This is the reason the wipe is extremely soft on delicate baby's skin and prevents diaper rashes.
The wipes are clinically proven to prevent diaper rashes as it is free from harmful chemicals. Mother Sparsh wet wipes contain super ingredients like Aloe Vera, Jojoba oil, & Vitamin E which keeps the baby bottom hydrated.
Key Features of Mother Sparsh Wet Wipes which makes it India's First Water Based Wipes Brand
1. Made with 100% biodegradable fabric
2. Free from harmful chemicals like parabens and alcohol
3. Clinically proven to prevent diaper rashes
4. Made with plant fabric
5. Loaded with the goodness of natural Jojoba oil, Organic Aloe Vera and Vitamin E.
6. Perfectly suitable for even new-born babies. Best to clean the baby's hand, feet, and the area near the mouth.
7. Mess-free and neatly packed, perfect for travel.
Mother Sparsh wet wipes are extremely gentle on delicate baby skin and help to maintain pH level. It helps to clean the oil and dirt easily without being harsh on baby's sensitive skin. If you are looking for a reliable option to prevent diaper rashes just don't change the diaper also switch to Mother Sparsh Wet Wipes.
you can read my more wipes related post here.